Home
Entertainment
Famous Kenyan Movie Star Mysteriously Collapses And Dies In Nairobi
Famous Kenyan Movie Star Mysteriously Collapses And Dies In Nairobi
It is a sad day for the entire Kenyan film industry after it emerged that a well-known actor had passed on in Nairobi. According to sources, Kenyan Actor Olwenya Maina, popular for his role 'Oti' in Nairobi Half Life film is dead. Olwenya reportedly collapsed and was pronounced dead at a Nairobi Hospital. Many Kenyans across the internet have expressed their shock and deepest condolences to his family after the painful update.
Details as to what led to his untimely death still remain scanty as the news continues to unfold. Family, friends, and the entire fraternity of the entertainment industry are thrown into mourning after the sudden death of their loved ones. The late Olwenya Maina popularly known for his stage name Oti was an actor in Nairobi Half film. He was a good actor who brought the entertainment industry alive through his skills and knowledge. The late Olwenya alias 'Otis' lived to live a healthy lifestyle until his demise occurred soon. Sources indicated that he collapsed and was pronounced dead at the hospital.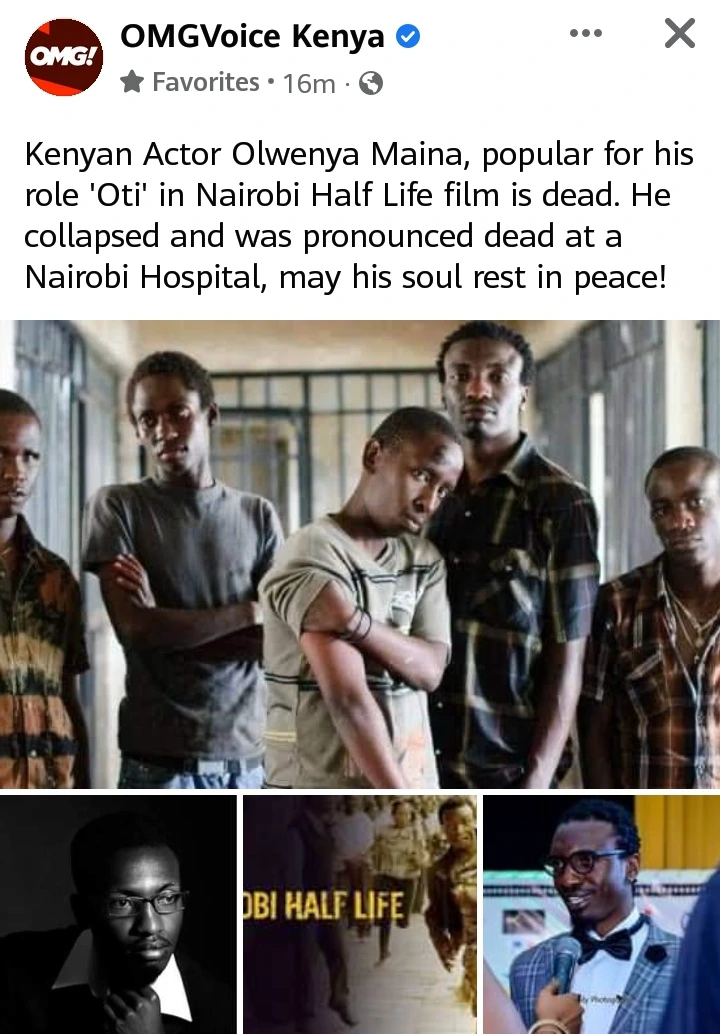 His body was taken to the mortuary awaiting an autopsy to reveal the cause of his death. The late was a humble, social, and understanding person. He was also hard-working and had a good vision for his family. His death was a huge blow not only to the family but also to the entire entertainment industry, we extend our heartfelt condolences to his family. May his soul rest in external peace.
Reactions
Irene… Life is an illusion,we live by chances. It's where everyone will go and sadly his time was due.
Mbugua… My best actor in NAIROBI HALF LIFE MAY he rest in peace.
Gabby… Rest in power must admit you was a great thespian fly your way
Simon… Sad development,Nairibi half life is a true story movie.rest well oti
Rambo… He was such a great actor,no only in NHL but all other movies too.
Rip champ .
The year 2022 has been full of highlights from politics to the arts. Having a General Elec…