End Of The Road For Two Thugs Trying To Rob Heavily Armed Police Commando in Kiambu
Sleuths in Kiambu County are holding two thugs after a scary botched robbery last night. According to a report by the DCI, a police officer based in Kiambu is lucky to have escaped with his life after a bizarre morning robbery. It has emerged that two men on a motorcycle ferried the officer home, before turning against him with some heavy blows and kicks as they demanded cash and his belongings.
However, the officer who was well-armed removed his Jericho pistol from the waist and ordered the duo to surrender. To his shock, the rogue thugs tried taking off and this is when the officer discharged one bullet towards the thugs completely disabling their escape ride. In dismay, the two rogue criminals surrendered and the officer arrested them.
This incident comes at the backdrop of an increase in the number of shocking activities around the country. A huge number of Kenyans have lost their belongings and worse their lives after some deadly robberies. On the other hand, cops have managed to eliminate these criminals with a number currently spending life behind bars.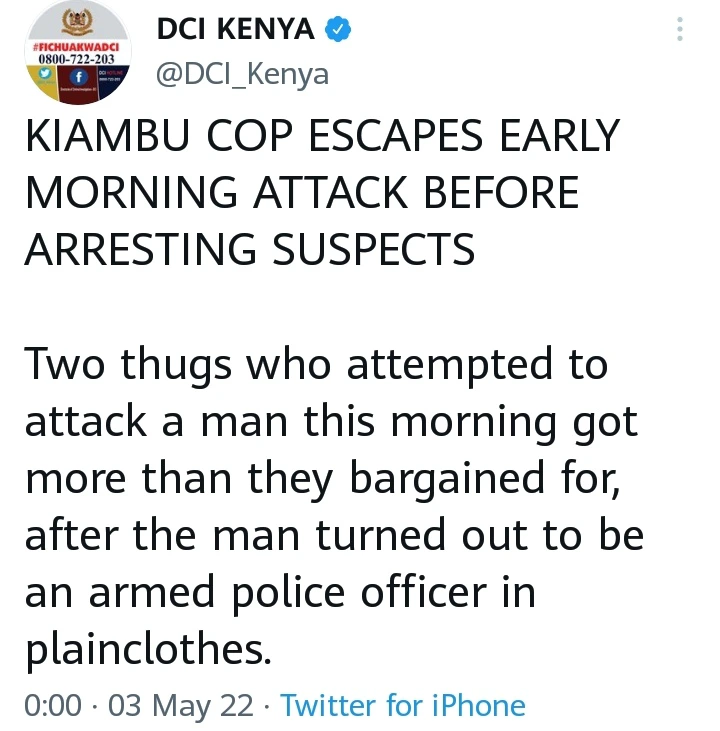 The year 2022 has been full of highlights from politics to the arts. Having a General Elec…