Video Facts: Is Russia Planning to Bomb Nairobi, to Punish Kenya?
A video of Russian President Vladimir Putin addressing the press on the crisis in Ukraine has gone viral in Kenya.
In the viral clip that has been shared multiple times on Tiktok, Facebook, and WhatsApp, the translated captions claim Putin had decided to send missiles to Kenya's capital, Nairobi. The captions purport that Putin had declared a military operation on Kenya for meddling in its affairs with Ukraine.
How true is this? Is Russia planning to Bomb Kenya?
In the widely circulated video, Putin spoke in the Russian language on February 24, 2022. The English translations on the clip that has caused fear among a section of Kenyans read:
"How can Kenya invade into our missions? Kenya has put itself in a war that it can't even shoot a single bullet.
"Bombing Kenya will only take a few minutes for my military men. As of now, we will start sending our missiles to Nairobi so that we can destruct Kenya."
A Kenyan social media user, seemingly irked by the translations condemned Putin for drawing Kenya into the war.
"God forbid. May he be bombed himself at this minute. God help Kenya," she wrote on Tiktok, not knowing the translations were fake.
A quick fact-check on the video in circulation found the translations to be misleading. In his speech, Putin could not be heard mentioning Nairobi or Kenya. Nairobi and Kenya do not have alternative Russian names. If at all Putin had mentioned Nairobi or Kenya, the identities would remain despite having his speech in the Russian language.
Secondly, the viral video's translated transcriptions appeared to have been manipulated using the popular mobile video editing app, Kinemaster. A watermark of the application can be seen at the top right corner of the video.
A little research by Joseph Sosi, a renowned Kenyan Digital Media expert, traced the actual video with the correct translations of the Russian head of state's speech.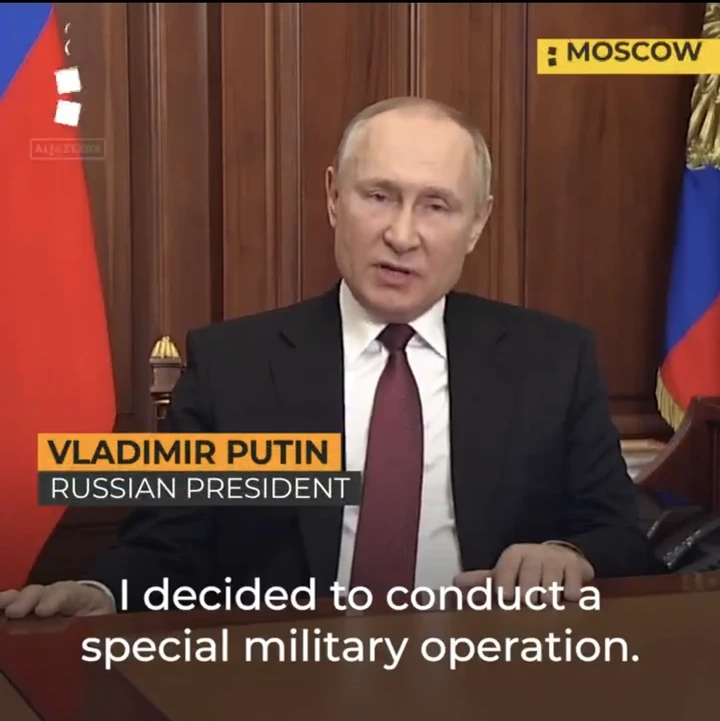 Photo: A video grab of the Russian President Vladimir Putin addressing the press.[Source:Aljazeera/Twitter]
The footage carried by Aljazeera had Putin's remarks untampered. Putin did not mention Kenya or Nairobi. His declaration of a special military operation had nothing to do with or link to Kenya or any African state.
"I decided to conduct a special military operation. The goal is the protection of people who, during eight years suffered from abuse and genocide from the Kyiv regime.
"We urge you to lay down arms immediately and go home. I will explain: all servicemen of the Ukrainian army who comply with this requirement, can freely leave the area of military actions and return to their families," stated Putin.
In his speech, Putin went further to declare that Russia was ready for any outcome of the security crisis that has already plunged the region into a humanitarian crisis.
Now you have your answer. Is Russia planning to bomb Kenya?
The year 2022 has been full of highlights from politics to the arts. Having a General Elec…