Old Retired Man Invites Two Girls to Satisfy Him in Bed But Sadly Dies During The Act
A man has left people shocked after he allegedly invited girls to satisfy him but passed away during the session with them. The man who is said to be a retiree worker at the Nigerian Postal Service died while I'm in the company of the two teenage girls who were at his service in Akwa Ibom state. It was also confirmed that the lifeless body of the man was found at his residence in Uyo along Udo street.
According to a witness who happened to be the deceased neighbor but sought anonymity, the man had invited teenage girls to engage in the act with him promising them that after the act he will connect them to jobs at Nigerian Postal Service. It is said that the former employee at Nigerian Postal Service passed away due to exhaustion that came be because of the marathon race the two energetic girls were giving him during the session.
Neighbors discovered the deceased remains outside the house, this prompted them to inquire inside where they found two teenage girls, upon asking them what transpired, the girls said that the old man had invited them to spend a night at his place. Authorities say that the two girls have been arrested as investigations are ongoing to establish the real cause of the man's death.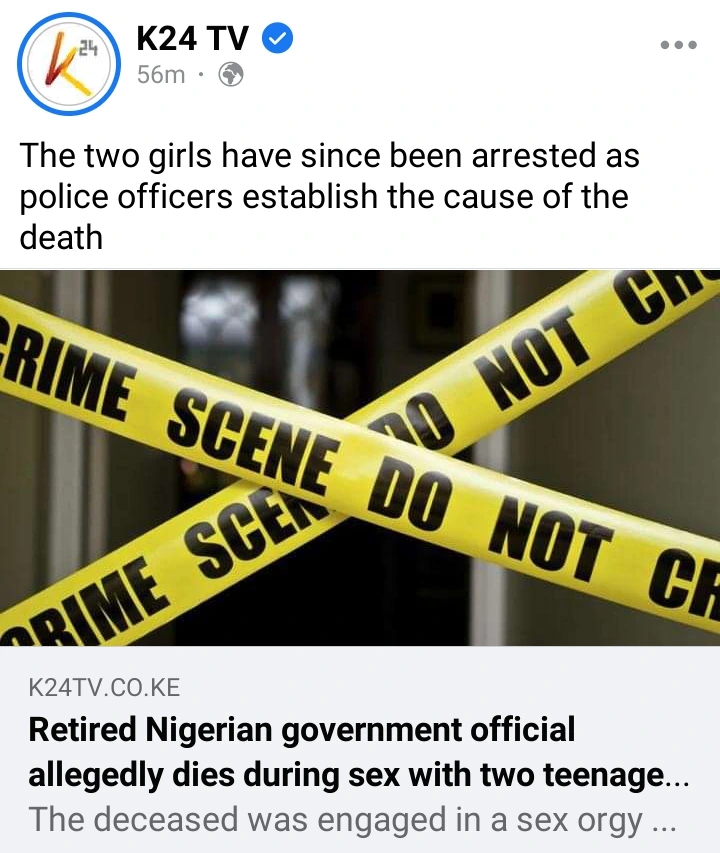 The year 2022 has been full of highlights from politics to the arts. Having a General Elec…