Home
Latest
Panic as Ferry Carrying Hundreds in Likoni Gets Stuck Mid Ocean Due to Technical Problem (Video)
Panic as Ferry Carrying Hundreds in Likoni Gets Stuck Mid Ocean Due to Technical Problem (Video)
Tragedy has befell some of the Residents of Likoni in Mombasa after a Ferry that was carrying hundreds of residents was stuck in the Ocean, leaving them with fear, as many had gathered at the beaches while viewing the whole Incidence from a distance.
Videos from the scene showed the Big Machine which was moving from one terminal to the other while carrying people, just floating on the waters that were having some little Waves and shaking. This Prevented it from going forward and instead started going sideways.
The Locals who were on board were looking on the dry grounds that were far away helplessly while shouting and speaking to their fellows who were on the safer sides to provide assistance and aid in rescuing them from the predicaments.
One man who was boarding another Ferry on the same point was shouting while telling the Crew to order some other boats to come and take away some people in from there since it did not appear safe anymore.
"Tell them to bring those with boats right away, you need assistance." The man said.
The Ferry Management however decided to announce the situation of the Ferry, urging that they had a small technical problem and it was being resolved immediately. He also promised that when the Ocean finally becomes calm, everything will return to normal.
"As we are seeing, there are some challenges but we will wait until the waters calm down." One member said.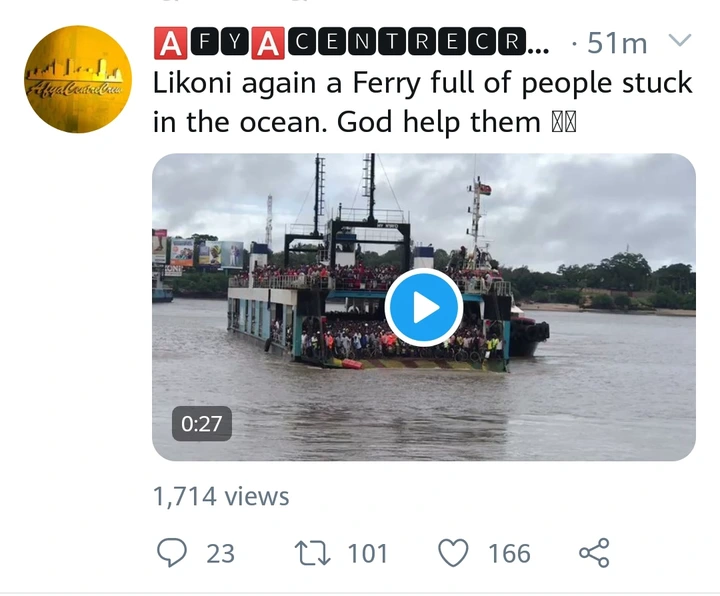 Reports have also indicated that the Ferry departed well, with the required number of passengers but after a going some distance into the sea, the Capitan of the Ferry experienced some difficulties in moving teng machine, due to a technical problem in the engine hence forcing it to pause the journey.
This has been witnessed in the region in the past many times, especially during this time of the year. Last year, a Car that was being carried in the ferry dropped in the Ocean at the middle of the Journey and two owners of the Car including the mother and Her young daughter died on the spot after they drowned.
Kenyans have however been faulting the National Government a day even the Mombasa County government for allegedly not investing good money in purchasing good ferries. This according to them is risking people's lives.
You can click on the link below to watch the video.
The year 2022 has been full of highlights from politics to the arts. Having a General Elec…