Naivasha Trip Ends In Tears As 'Subaru Boys' Allegedly Abandon Some Of Their Ladies
Over the past one week, Naivasha has been all over and trending all over social media as people traveled to the place. This happened in preparation for the WRC Safari Rally Championship which was set to start in Naivasha the last Friday. We had a lot of excitement where the Subaru owners who are believed to be fast car drivers were all over there and rocked the place. As this happened, most of them took some ladies with them so that they could have a good time together as they call it. There are those who took their own wives and soulmates while others picked some beautiful good looking ladies on the streets. However, this is a trip that has now gone berserk as fresh details reveal that the ladies have been abandoned. Right now, we have more than about 44 women who were taken to Naivasha by their 'boyfriends' who have now abandoned them. Most of them are crying for the county government of Nakuru to come through to intervene and help them go back home.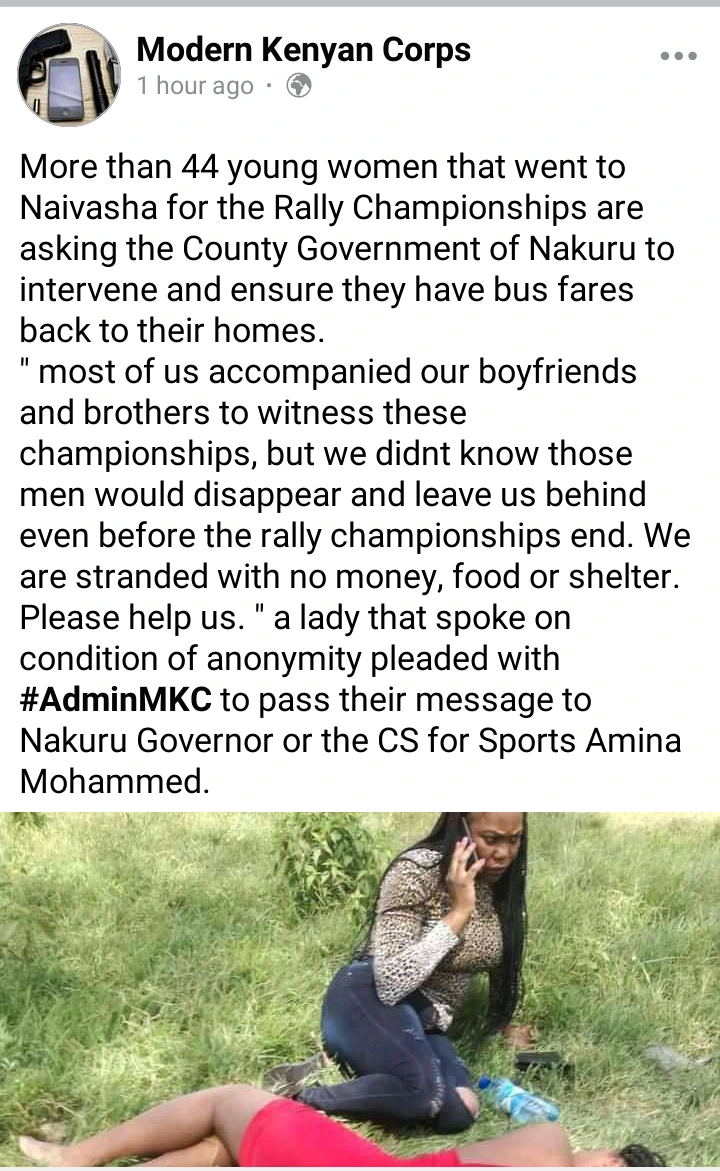 More than 44 young women that went to Naivasha for the Rally Championships are asking the County Government of Nakuru to intervene and ensure they have bus fares back to their homes. " most of us accompanied our boyfriends and brothers to witness these championships, but we didnt know those men would disappear and leave us behind even before the rally championships end. We are stranded with no money, food or shelter.Please help us. " a lady that spoke on condition of anonymity pleaded with #AdminMKC to pass their message to Nakuru Governor or the CS for Sports Amina Mohammed.
Comments:
James Ngugi Gold diggers, your parents should come for you from the police cells or naivasha maximum1
Livingstone Irungu KE Good. Let them learn a lesson.
Cliff Moturi Kwani police cells are full give them accomodation for few days watafute fare Allah
Dennis Maleya Wakipanga kuenda naivasha,had they informed the county government
Jacob Rotich Nice,the governor should advertise the 44 slots to be filled by tomorrow morning.
Rachael Mama Gift RaelTo hell with them all. Women should learn to earn their cash nkt
The year 2022 has been full of highlights from politics to the arts. Having a General Elec…