'God Forgive Her' Kenyans React As Pictured Lady Plucks Bible Verse To Smoke Weed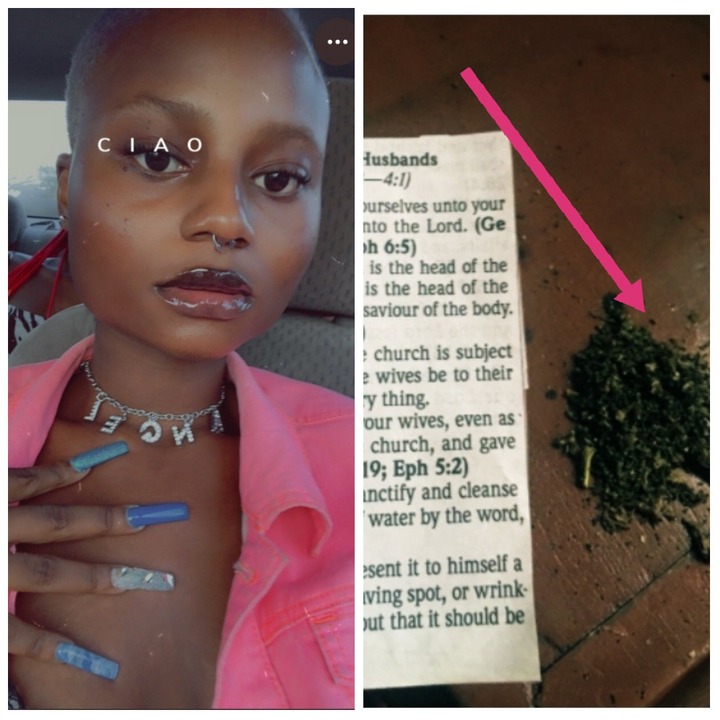 A young woman as seen seems to have torn out a part of her bible and used it to smoke weed, which she later went on shared photos on Twitter for her followers to have a look at. The lady, identified as Priestess took to her social media to share photos of herself using the Bible as a smoking paper after cutting out some part of the Bible that says 'wife must submit to their husband'. Before she carried out the act, Priestess shared a photo of the dried marijuana placed in the middle of an open bible, captioning it "Forgive me, Lord,"  As she placed the illegal drugs on the holy book.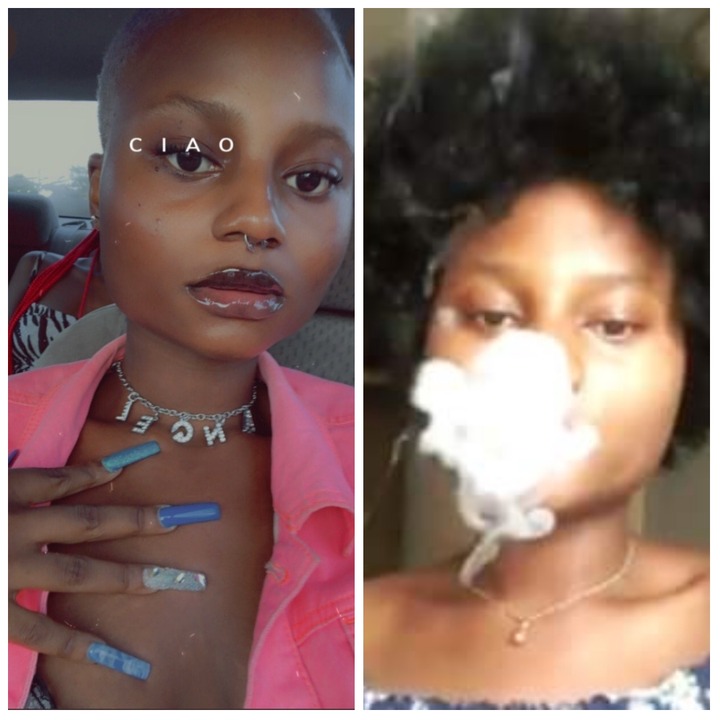 Then Minutes later the young lady went on shared some shocking photos as she smoked the substances using the holy books papers. A video and photos have been shared by Nairobi's ex-governor Sonko sparking mixed reactions across Netizens. A majority of internet users have blasted the young woman saying she was just nuts and maybe suffering from some mental problem. It still remains unclear as to what could have let her do such an unbelievable act. The Bible is termed as one of the holiest books in the world and therefore, Christians use it in leading a holy and sinless life.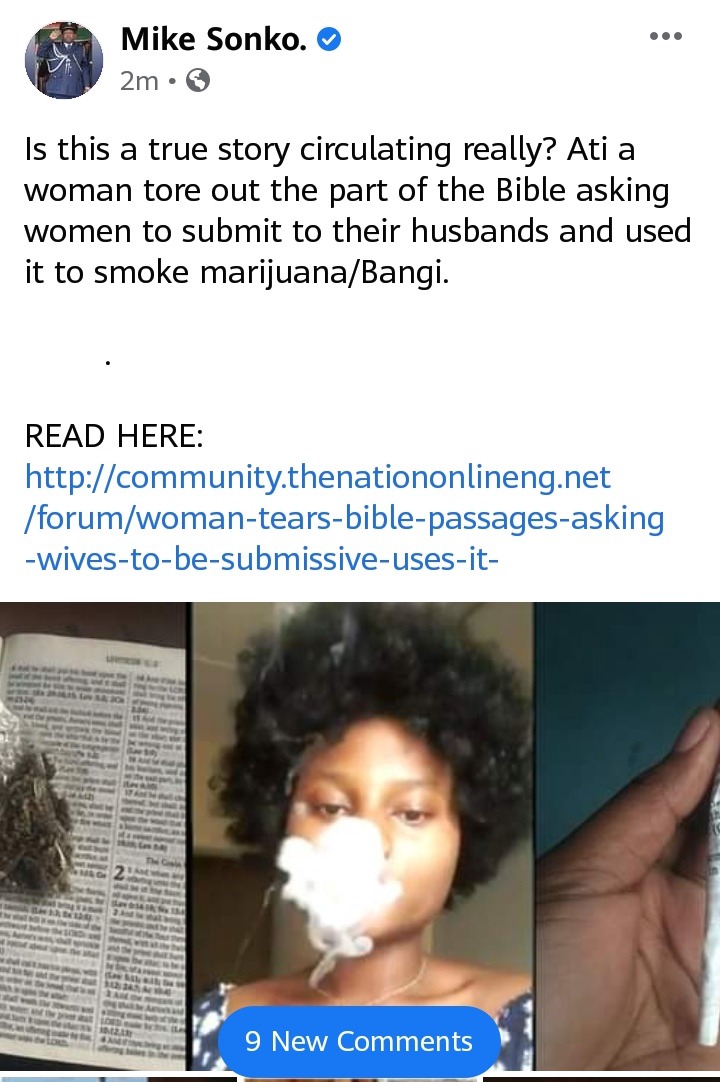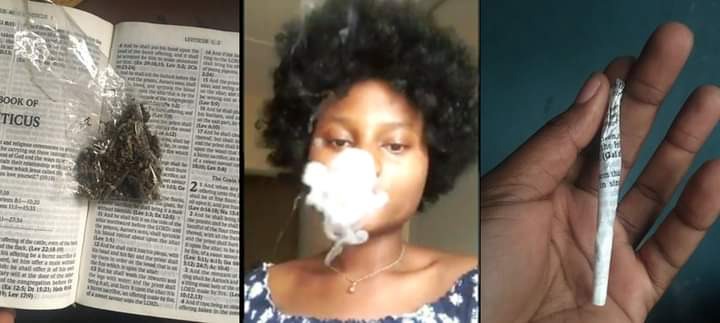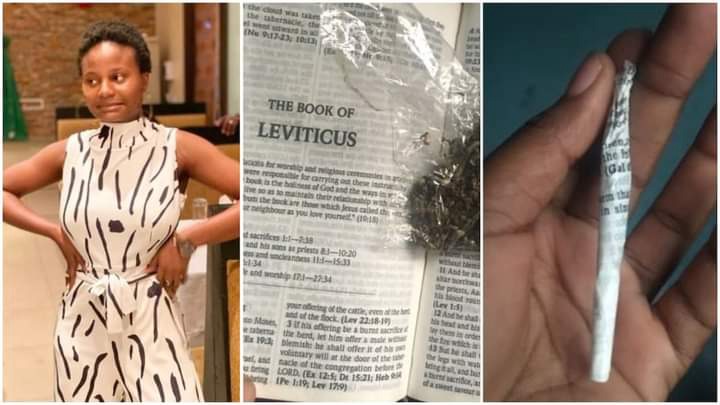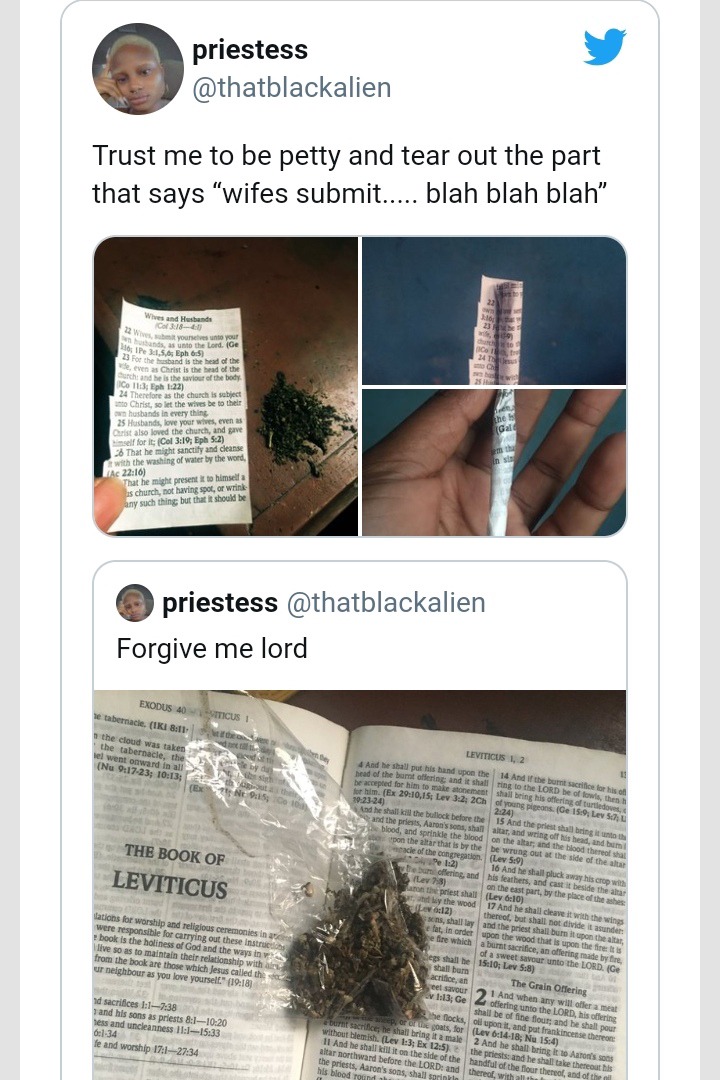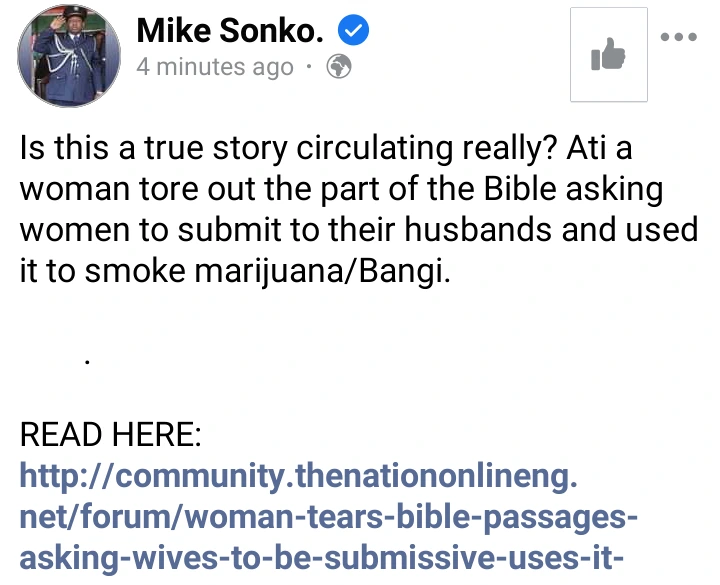 According to the lady, doing what happens to be unimaginable to many people she allegedly plucked the page of the Bible with verses that demand women to be submissive to their men.  What is seems more controversial is that the lady has used the plucked pages to smoke some cannabis. She started by posting on her social media page, the pictures of her holding the already torn page of the Bible and captioned, 'Trust me to be petty and tear out the part that says, wives, submit…' Secondly, she went ahead and posted another picture on which she captioned a statement that reads, 'forgive me, lord.' In the picture, the alleged cannabis is seen in a transparent polythene paper.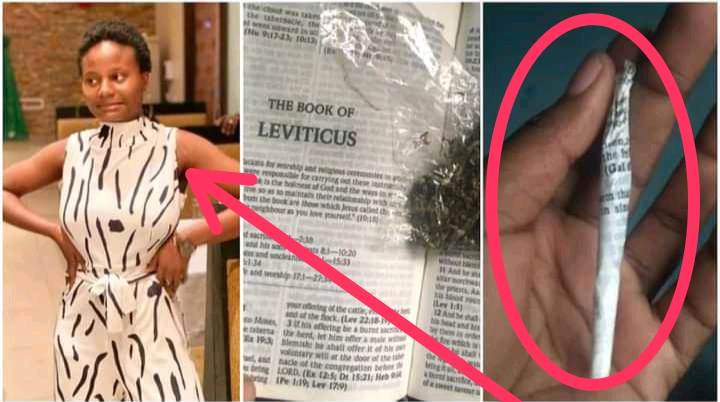 Reactions
@ Joanne.. God is merciful,he will still forgive her🤣mimi nishawai ombea adui yangu ameze nyuki imstink koo apoteze sauti awe bubu but wapi🤣God is not human,if its true the lady is just acting our of ignorance God will revisit her and She will repent and be changed
@Faith.. The wrath of God is waiting for us..people no longer respect God anymore..
@Lukeson.. If it is true something scary will happen to her, The BIBLE is a HOLY BOOK. Never joke with it
@Victor.. But you are the same people who are spare heading the legalization of the drug…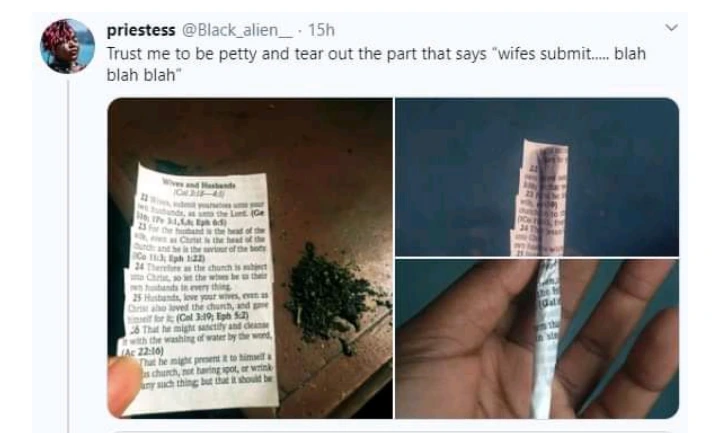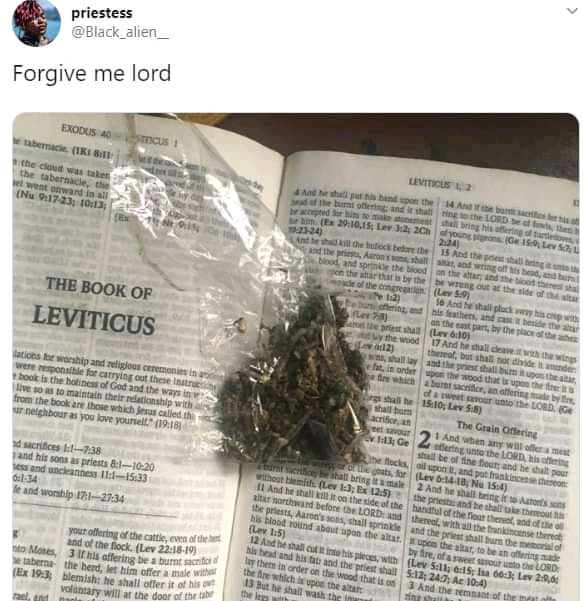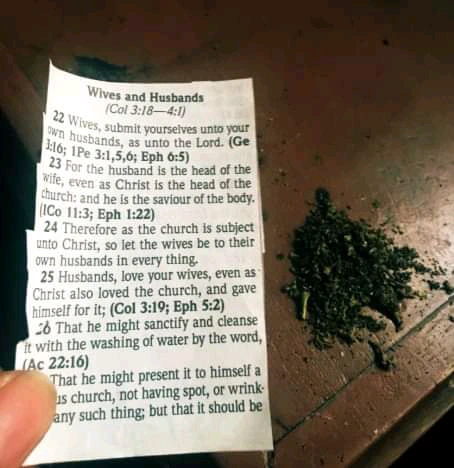 Here are more reactions from internet users….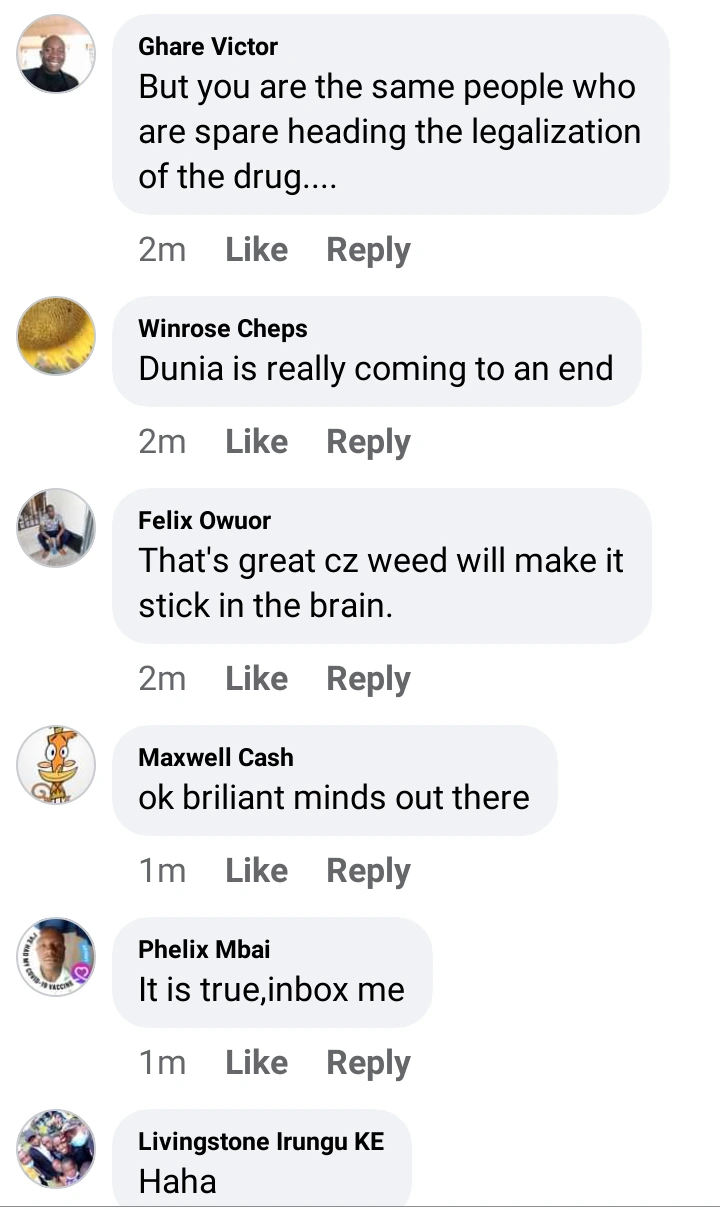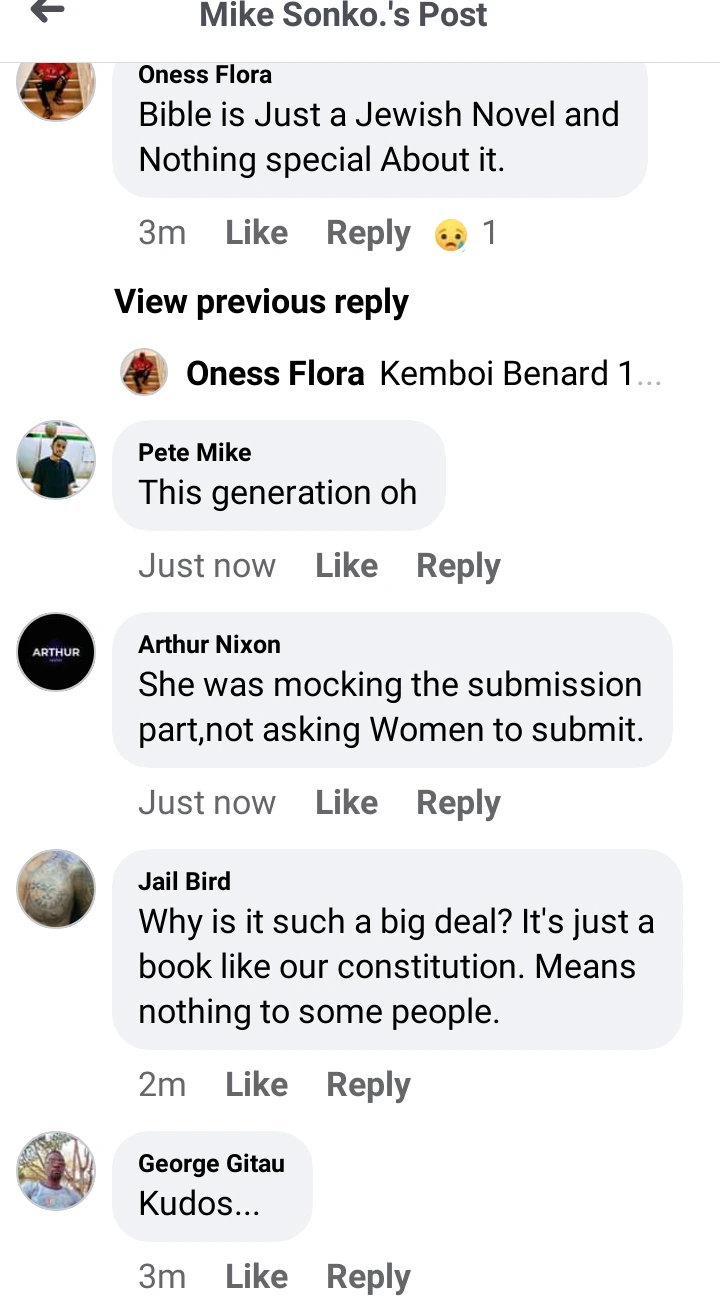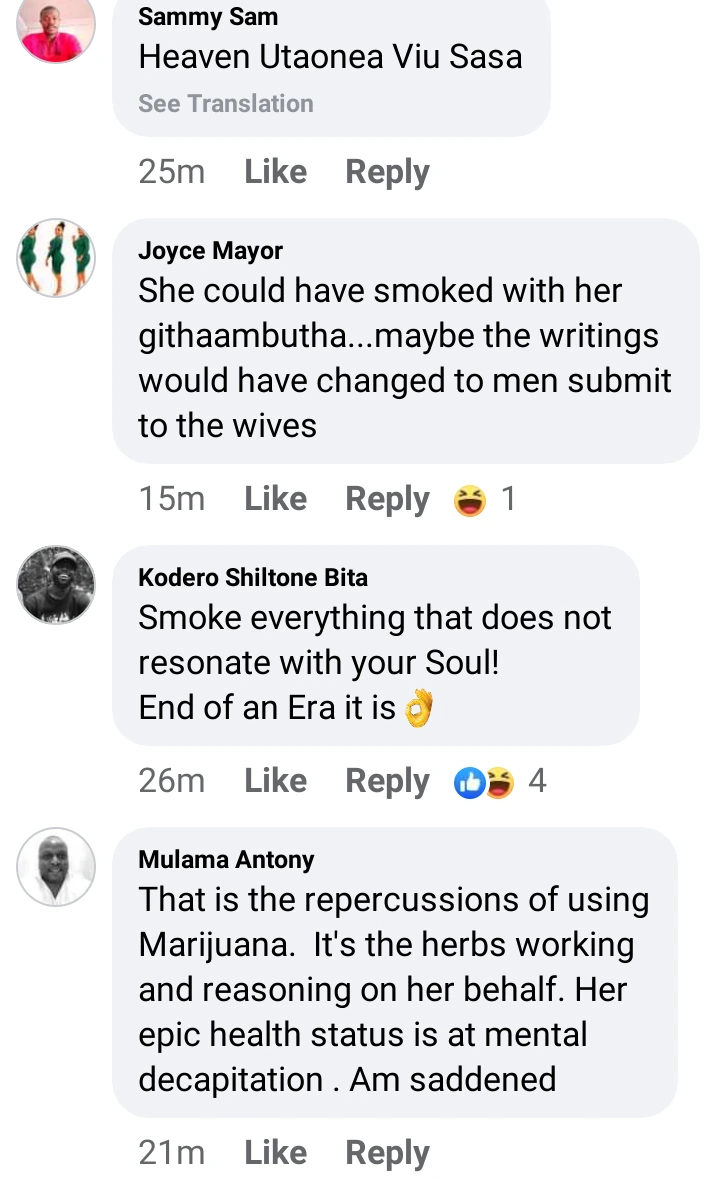 Facebook users have been left talking after Zari well known as The Boss Lady attacked the …