How to File Nil and PAYE KRA Returns on iTax in 2021
With the deadline for filing KRA tax returns fast approaching, every taxpayer in Kenya is mandated to submit their returns to the agency. One can easily do so online on iTax. Here is a guide to help you file your taxes whether employed, looking to file nil returns, and if you have other sources of income where you shall be required to file with a withholding certificate.  We shall also cover, account recovery as well as how to reset your KRA iTax password.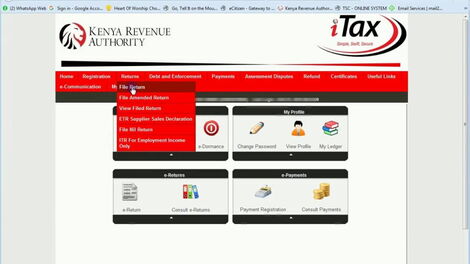 The log-in page of KRA's iTax portal.
Filing PAYE (Pay As You Earn) Returns Online
PAYE (Pay As You Earn) is a method of tax deduction from employees' salaries or wages and it applies to all income from any office or employment.
) Log on to https://itax.kra.go.ke/KRA-Portal/ from your browser
3) Enter your KRA PIN, click Continue. Enter Password and Security Stamp (answer to arithmetic sum) and Click login
4) Under the returns section, click on file returns then select Income Tax followed by the PAYE option.
5) Click on the returns tab and then the last item ITR for employment income
6) Fill in the sections marked with a red asterisk (*) on Section A.
7) Then in section T, only two sections are necessary section 1.1 and 2.5
8) Move on to Section F and fill out your Total Employment Income.
9) Click on the section M tab and check that taxable salary, tax payable on taxable salary and tax deducted salary tally the information reflected on your P9 form.
10) Next in Section Q, fill in the tax paid in advance if applicable. This is the last section requiring information to fill in the return section. Once completed, click submit.
11) If successful, a tab will appear on your screen with the text, "return slip generated'. You can then click on the download returns slip to get your slip, which you can then send to yourself via email or print.
How to File Nil Returns Online
To file a nil return, all you need is your copy of the KRA PIN certificate and an account on KRA's iTax website.
1. First, click on www.itax.kra.go.ke and log in.
2. Put in your user ID or KRA Pin. After you insert the KRA Pin, click on the continue button below it.
3. An empty tab will appear where you will input your password and then proceed to do simple arithmetic (known as the Security stamp) below that and click enter.
4. Once you have accessed the website, you will see a red menu bar. On it click the 'Returns' icon and a drop-down will appear; select the File Nil Returns Option.
5. On the new page, at the 'Type' tab, fill 'self', on the taxpayer pin insert your KRA pin and on the 'Tax Obligation' option insert 'Income tax resident.' then click 'Submit.
6. If the process is successful, an e-return acknowledgment receipt will appear. Click download the receipt and you will be all done. You can print or email yourself the receipt for safekeeping.
The year 2022 has been full of highlights from politics to the arts. Having a General Elec…